Upcoming Author Events, Image Shows, and Lectures
Marc Shargel interviewed on the Energy Matters podcast
Energy Matters with hosts Cody Edner and David Gandelman


Marc Shargel and Cody Edner met in the mid-1980s when both were studying meditation and spirituality, and have been friends ever since. Marc and David Gandelman didn't know they'd met before their conversation began, but David realized he and Marc had had a chance conversation outside the school in Hawaii where David was learning meditation.

In this in-depth conversation these three men, all teachers of meditation, discuss how Marc discovered the practice, and how his spirituality is linked to his love of the ocean and his convservation work.

Marc cites a few of his favorite photos to illustrate what he talks about in the podcast. Look here for the "kelp cathedral," hammerhead sharks, sea turtles, whale sharks and the undulating curves of the sea.

Learn more about the Energy Matters podcast. Listen or subscribe if you choose.

If you'd like to contact Marc about his photography or his spiritual work, you can send an email here.
Video Voyages
In the autumn of 2016 we created two short videos, and you don't have to travel or even wait a moment to see them! Just click below.
Video from Marc Shargel's recent Galápagos expedition: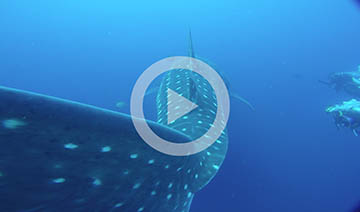 Video from Central California, Fiji and British Columbia, 2012-2016:

---
If you'd like to arrange a date for a presentation to your group, send us an email. If you're wondering whether our presentations are a good match for your group or event, have a look at the events we've done in the past.

---
Marc Shargel has been a frequent presenter at clubs and civic groups all over Northern and Central California. More than a dozen clubs, as well as civic and volunteer groups, have seen his talks "Islands of the Eastern Pacific" and "An Underwater Swim Across the Pacific." In 2001 he presented images of endangered Manatees from West Florida. In 2002 his presentations featured images from the South Pacific Islands of Palau, Yap, and Bali.
Current and Upcoming Photo Shows

Open Studios
Four days: Saturdays and Sundays
October 7-8 & 21-22, 2017
11:00 AM to 5:30 PM each day



SHOW DATES: Saturdays and Sundays, October 7-8 & 21-22.
HOURS: 11am - 5:30pm each day
LOCATION: Open Studio #134 at 190 Orchard Road in Felton. Here's a map.

Open Studios is always our biggest show of the year and your best chance to see the widest selection of our work. We'll have new images from local waters, the Big Sur Coast, and—we hope—our upcoming eclipse adventure. They will be joining pictures taken in the Galapagos, Fiji, British Columbia, and the entire coast of California. Our images are available framed behind non-glare glass, or printed onto canvas and "gallery wrapped" around wood frames, or printed directly onto metal. Along with fine art prints in those three styles you will find reasonably priced mini prints, a newly-enlarged selection of notecards and all four of our published books. While you visit you will be able to enjoy the beautiful Santa Cruz Mountains view from our deck and light refreshments.

If you come to Felton on any of the four Open Studios days you will see bright green signs guiding you to "Marc Shargel #134." Near my studio in the San Lorenzo Valley we have a wonderful cluster of more than a dozen photographers, painters, woodworkers, fiber artists and more. There will be over 300 artists throughout Santa Cruz County opening their studios for this event. Artists in the southern half of the county will actually be open on October 14-15. Those of us in the north half of the county open on October 7-8, and most artists throughout the county do the final weekend on the 21-22nd.

Take Highway 9, Mt Hermon Road, or Graham Hill Road to Felton. Then just follow the bright green signs to Studio #134. Here's a map.

If you have any questions, send an email or give us a call at (831) 335-4849. The complete show guide, listing nearly 300 artists, is available in many forms. You can pick up a printed guide the week before the event alongside the Santa Cruz County Good Times. The Arts Council will once again produced an app for your smartphone (iPhone/iPad or Android) with complete guide information. The app is scheduled for release by Sept 21, and this year they are giving it away free! For more details, see the Arts Council Santa Cruz County website d. (but check for the app after Sept 21)
Gallery Event in connection with Open Studios
The Open Studios Preview Exhibit


The Arts Council holds a preview exhibit at the Santa Cruz Art League before and during Open Studios. The exhibit opens Saturday, September 30 and runs through October 22. One piece from each of 302 artists is included in the exhibit.

PREVIEW EXHIBIT DATES: September 30 - October 22
PUBLIC RECEPTION: Sunday, October 1st,
3 - 6pm
HOURS: Tuesday - Friday, 11 - 5; Saturday & Sunday, 10 - 5; Closed on Mondays
LOCATION: the Art League, 526 Broadway (near Ocean Street) in Santa Cruz. Here's a map.

If you have questions about the Open Studios Preview Exhibit, check the website of the Santa Cruz Art League. If you need more information, email ACSCC or phone them at (831) 475-9600.
Email or phone us at 831-335-4849 for additional information on any of our events.
If you'd like to receive an email notification of the date of our next show, please join our newsletter list.