Upcoming Author Events, Image Shows, and Lectures
Private Presentation for San Jose Sons In Retirement
Marc Shargel will address the Santa Cruz Chapter of Sons in Retirement over lunch on April 18, 2018. His talk will cover his photography of the August solar eclipse, his observations based on 39 of local diving and his work in marine conservation.

Unfortunately, the event is private and the group expects to fill every seat in the facility with their members and their guests.

If you'd like to have Marc speak to your group, send an email here.
Marc Shargel interviewed on the Energy Matters podcast
Energy Matters with hosts Cody Edner and David Gandelman


Marc Shargel and Cody Edner met in the mid-1980s when both were studying meditation and spirituality, and have been friends ever since. Marc and David Gandelman didn't know they'd met before their conversation began, but David realized he and Marc had had a chance conversation outside the school in Hawaii where David was learning meditation.

In this in-depth conversation these three men, all teachers of meditation, discuss how Marc discovered the practice, and how his spirituality is linked to his love of the ocean and his convservation work.

Marc cites a few of his favorite photos to illustrate what he talks about in the podcast. Look here for the "kelp cathedral," hammerhead sharks, sea turtles, whale sharks and the undulating curves of the sea.

Learn more about the Energy Matters podcast. Listen or subscribe if you choose.

If you'd like to contact Marc about his photography or his spiritual work, you can send an email here.
Video Voyages
In the autumn of 2016 we created two short videos, and you don't have to travel or even wait a moment to see them! Just click below.
Video from Marc Shargel's recent Galápagos expedition: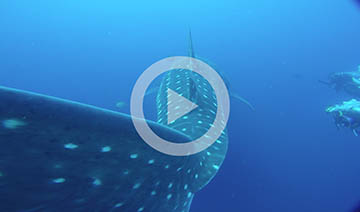 Video from Central California, Fiji and British Columbia, 2012-2016:

---
If you'd like to arrange a date for a presentation to your group, send us an email. If you're wondering whether our presentations are a good match for your group or event, have a look at the events we've done in the past.

---
Marc Shargel has been a frequent presenter at clubs and civic groups all over Northern and Central California. More than a dozen clubs, as well as civic and volunteer groups, have seen his talks "Islands of the Eastern Pacific" and "An Underwater Swim Across the Pacific." In 2001 he presented images of endangered Manatees from West Florida. In 2002 his presentations featured images from the South Pacific Islands of Palau, Yap, and Bali.
Current and Upcoming Photo Shows

Currently our next scheduled photo show is Santa Cruz County Open Studios, on October 13-14 and 20-21, 2018. If you manage a venue or know of one that would like to host a show, please contact us. Thank you!
Email or phone us at 831-335-4849 for additional information on any of our events.
If you'd like to receive an email notification of the date of our next show, please join our newsletter list.