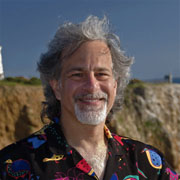 Marc Shargel began showing his underwater photographs professionally in 1988. He had learned to dive a decade before that, while he was a student of biology and psychology at Stanford University, in 1978. Shargel spent the summer of '78 studying Marine Biology at Hopkins Marine Station in Pacific Grove, and he hasn't stopped diving since. As a teenager, he learned to develop and enlarge his own photographs, but it was the images he encountered underwater that motivated him to return to photography. Shargel has dived the California Coast from Humboldt County to San Diego. His underwater photo expeditions have taken him to such far-flung destinations as British Columbia, México, Hawaii, Bali, the Caribbean, the Red Sea, and the Galápagos and Revillagigedos archipelagos. In his decades of time spent under the sea, Marc Shargel has noticed slow but relentless decreases in marine life. In 2000 he participated in founding the first of two marine conservation organizations along California's central coast that he helped to lead. From 2004 to 2006 he served on a state panel charged with doing something that had never been done before: to protect a network of marine habitats along the central coast by mapping out a series of marine reserves—no take areas—to function as refuges and nurseries for everything living in our ocean. In 2007, those new marine reserves went into effect. The state's process to make the network of marine reserves state-wide moved on to other regions, and so did Shargel. He began to create coffee table books, to communicate visually to decision makers and the public exactly what the proposed areas might protect. In 2008 his first book of photography, Wonders of the Sea: North Central California's Living Marine Riches, was published. He has since published two more volumes in the series, one on Far Northern California and one on Southern California. Ironically, the last portion of the state, on which he has yet to produce a book, is his native Central California.
"Marine life photography began for me as a way to make my favorite moments last, to make the spectacularly colorful images I love persist. I quickly learned it was the best way to share my passion with others. Photography has now evolved into a way I can help life in the ocean communicate to humanity. Humans build with straight lines and square corners," he says, "Nature suggests graceful curves but doesn't enforce them. The living Ocean is indescribably beautiful: it must be seen. I hope my photographs will communicate some of that beauty, and motivate people to preserve it."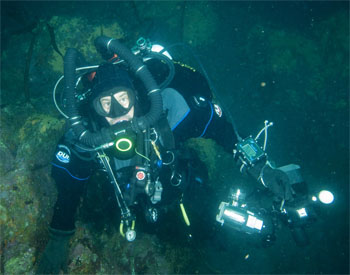 Marc Shargel underwater in Central California with his rebreather and digital camera. Photo: Steve Salika.
Marc Shargel's photographs have been exhibited at galleries and art shows throughout the San Francisco and Monterey Bay areas. He has won awards from local clubs and national and international contests. His photographs have published in books, magazines, commercial brochures, and numerous environmental publications, both online and in print. Marc is a popular presenter at dive clubs, schools and community groups. His fine art prints are shown at art events in Santa Cruz County. Since 1984 Shargel has made his home near Santa Cruz, California, where he now lives with wife Chris and son Bodie. When he's not underwater, Marc Shargel operates Living Sea Images, a multimedia company which publishes his books and also manages sales of his stock photography and fine art prints. A line of handmade notecards bearing Marc's marine images is available on their website. All three volumes of the Wonders of the Sea series of coffee-table books, Marc's notecards, and over 7,000 of his photographs, can be seen at www.LivingSeaImages.com.