Upcoming Author Events, Image Shows, and Lectures
Show Opening Reception at the
Scotts Valley Branch Library
"Around the World in 80 Photographs: Above and Below our threatened Oceans through the
camera of Marc Shargel"

Saturday, July 8, 2023, 2pm
Scotts Valley Branch Library,
King's Village Rd opposite the Transit Center
in the Fireside Room
Delicate Arch in Arches National Park is one of many images that will be on display at the Library this summer.
Our show at the Scotts Valley Library will kick off with an event in the library's community room. Marc Shargel will present a talk on his photography, subjects, and travels.
The pre-sentation will begin with 80 photos representing extraordinary scenes found around the world, above and below the ocean's surface. Many of those were taken earlier this year in national parks. The later portion will document the shocking disappearance of California's kelp forests over the last 10 years, the complex ecology behind it, and how we can respond to protect the biodiversity they contain.
Refreshments will be provided by Friends of the Scotts Valley Library. Support the Friends (a non-profit organization) here. A limited selection of Marc Shargel's books and notecards will be available for purchase.
---
Around the (Threatened) World in Photos, with the Aqua Tutus Dive Club
Thursday evening September 7, 2023 7:00pm
at
Round Table Pizza
20920 Redwood Rd, Castro Valley, CA 94546

Marc Shargel's words and photographs will carry members of the Aqua Tutus Dive Club around the world and the solar system, making stops at the sun and moon, then landing on earth to visit National Parks in Utah, the Grand Canyon in Arizona, Iceland and Alaska. We'll then dive underwater to see the marine life of Cuba, islands off Baja California, the Galapagos, British Columbia, Bali and more. The journey will end back home in California, with visions of sites from north of Eureka to San Diego.

The presentation will conclude with an illustrated discussion of the catastrophic disappearance of kelp forests from Mendocino to Big Sur, and the current efforts to preserve what we still have.

Shargel has been diving the coast of California and the oceans of the world for 46 years. He's been a vocal advocate for marine conservation in California since the 1990s. Among the highlights of his underwater photographic career have been a dozen multi-day expeditions down the Big Sur coast. He made his first boat trip south of Point Sur in the company of renowned marine explorer Robert Schmieder, back in the early 1990s. His presentation will include astonishing images from remote and very deep Schmieder Bank.

Marc Shargel has presented at Aqua Tutus meetings in previous years both to show his photography and advocate for marine conservation.

Check for meeting details at the Aqua Tutus website, or come to Round Table at 7:00 (map).

The public—that's you—is welcome to join us. The meeting details are all here.
---
Watch This Space

Return here for additional details about planned events and announcements of future events.
---
Voyage to the Bottom of the Sea:
An Underwater View of
Life in California's Ocean

If you missed Voyage to the Bottom of the Sea, when it was presented May 8, 2020, don't fret! You can see the complete video at this link:
LivingSeaimages.com/voyage

Take a Voyage to the Bottom of the Sea, be carried on the words and pictures of California marine explorer and conservationist Marc Shargel. Join him for underwater adventures along the California Coast, from Oregon to Mexico, from Humboldt and Mendocino Counties to the Channel Islands, including remote dive sites in Big Sur. Marc's talk will conclude in Monterey Bay, using dive sites in Shargel's backyard to show how the recent proliferation of sea urchins has caused a major ecosystem shift in kelp forests from Monterey to Mendocino.

Chelsea Prindle, manager of the The Monterey Bay National Marine Sanctuary Exploration Center was the evening's moderator.
00:00 to 04:30 - Introduction
04:30 to 28:00 - California underwater, Oregon to Mexico
28:00 to 44:30 - The disappearance of kelp forests from Monterey, and what to do about it.
44:30 to 1:15:30 - Q & A

Marc Shargel is a vocal advocate for marine conservation. From 2000 to 2007 he participated in the effort that created new marine protected areas (like underwater parks) along the Central Coast and throughout California, bringing his images and under-water insight into the political arena. Since then, Marc Shargel has presented at dive clubs, civic groups, schools and the Monterey Bay National Marine Sanctuary Exploration Center, offering education about MPAs and sharing the beauty of the underwater world.
Video Voyages
Voyage to the Bottom of the Sea, an online presentation featuring photographs and commentary by Marc Shargel: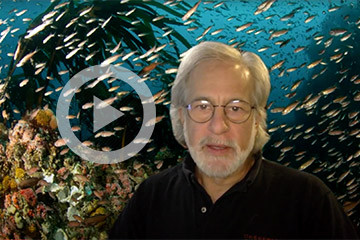 00:00 to 04:30 - Introduction
04:30 to 28:00 - California underwater, Oregon to Mexico
28:00 to 44:30 - The disappearance of kelp forests from Monterey, and what to do about it.
44:30 to 1:15:30 - Q & A
---
In the autumn of 2016 we created two short videos, and you don't have to travel or even wait a moment to see them! Just click below.
Video from Marc Shargel's Galápagos expedition: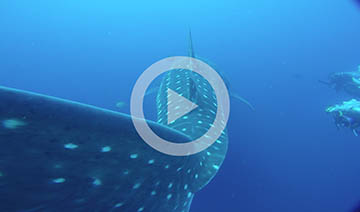 Video from Central California, Fiji and British Columbia, 2012-2016: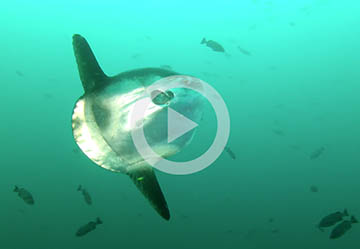 ---
We Take Requests!
If you'd like to have Marc speak to your group, send an email here. If you're wondering whether our presentations are a good match for your group or event, have a look at the events we've done in the past.

---
Marc Shargel has been a frequent presenter at clubs and civic groups all over Northern and Central California. More than a dozen clubs, as well as civic and volunteer groups, have seen his talks "Islands of the Eastern Pacific" and "An Underwater Swim Across the Pacific." In 2001 he presented images of endangered Manatees from West Florida. In 2002 his presentations featured images from the South Pacific Islands of Palau, Yap, and Bali.
Current and Upcoming Shows of Fine-Art Photography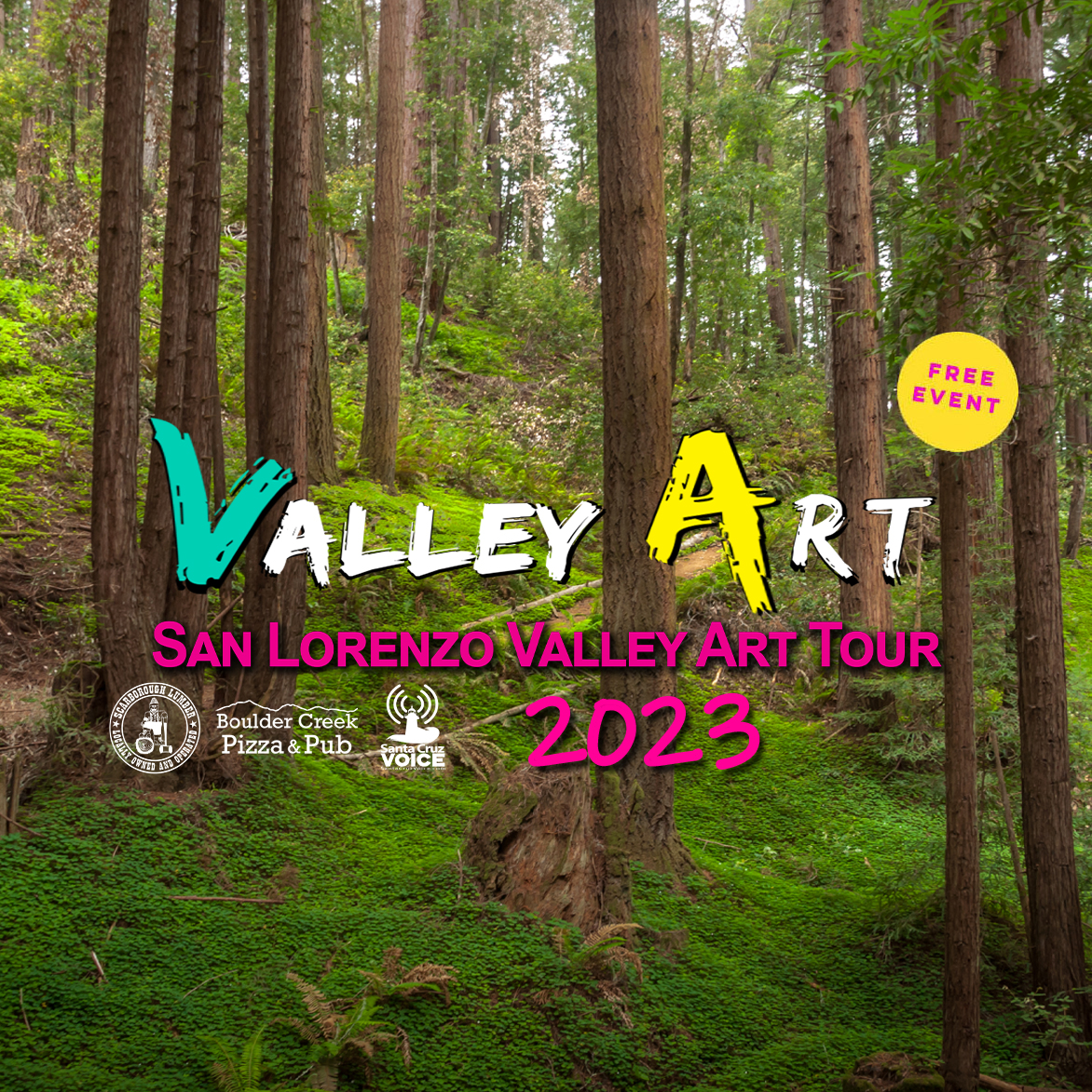 San Lorenzo Valley Art Tour
30+ Artists Along Highway 9,
From Felton to Boulder Creek
One Weekend:
Saturday, May 20 & Sunday May 21, 2023
From 11:00am to 5:00pm each day
Come and enjoy art of all media, and discover the abundance of artistic talent in the San Lorenzo Valley. Admission to all studios is free.
Fluorescent pink signage
will direct you to all participating artists.

I will be hosted in Downtown Felton at:
The Satellite Workspaces
6265 Hwy 9, Felton
831 222 2100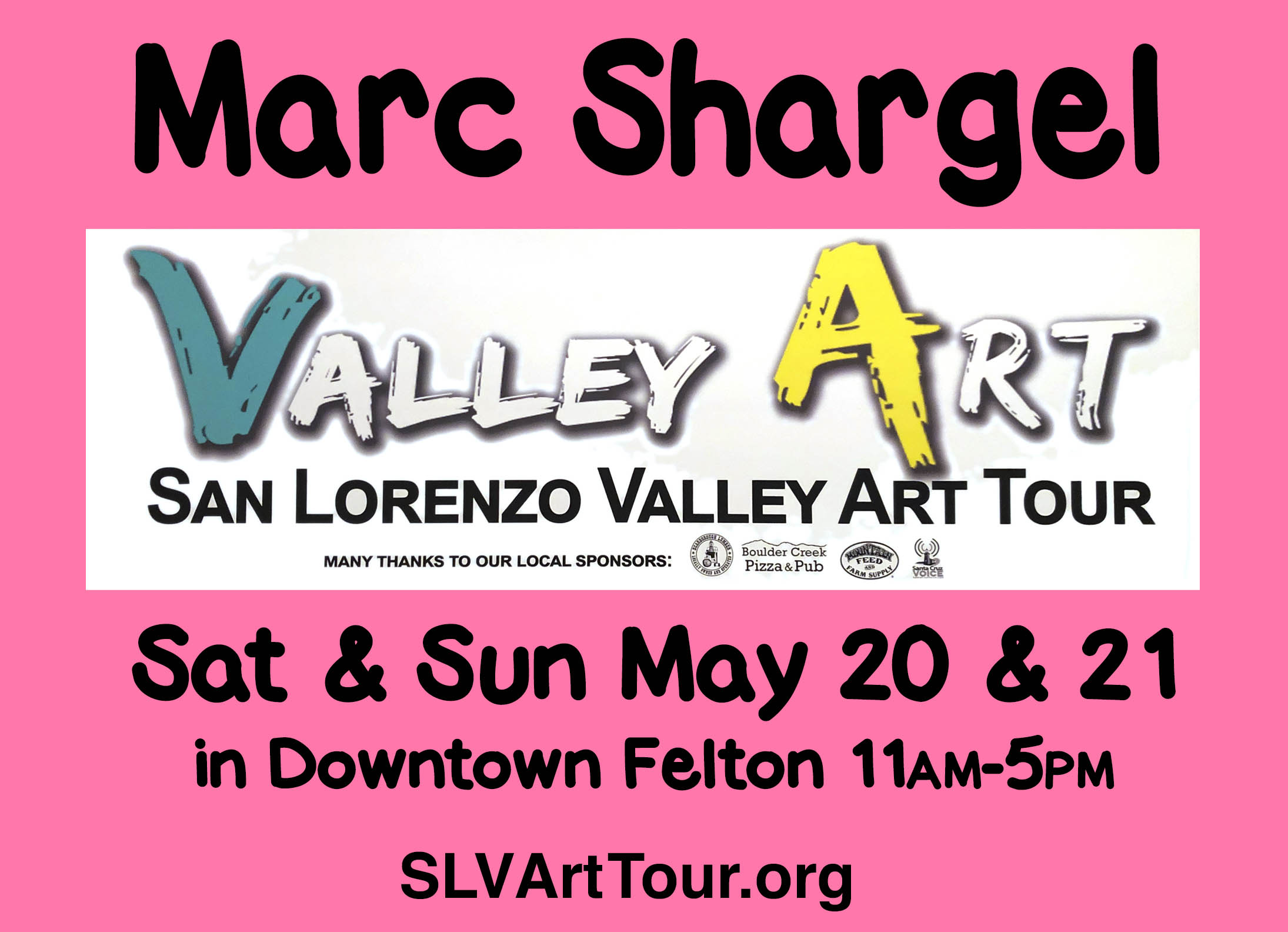 | | |
| --- | --- |
| An unnamed arch about 1/2 hour drive away from Bryce Canyon National Park in Utah, as Photographed by Marc Shargel in February of 2023. This will be among the new images on view for the San Lorenzo Valley Art Tour. | |

I will be partnering with local painter Sanda Spiegel at the Satellite Workplaces in downtown Felton. So the Satellite (direclty across from the new Humble Sea Tavern), will be a 2-for-1 stop on your tour. Sanda and I will each have lots of space to show a wide selection of work. My display will include new work from recent trips to Arches National Park in Utah, and an Alaskan Glacier.

One of many original paintings
by Sanda Spiegel

Among the items available to view and purchase will be original paintings and multi-media compositions, framed photographs, coffee-table books, greeting cards featuring photos of marine wildlife and eclipses, fantasy art prints and graphic novels. Entry is free and the public is invited to browse and talk with the artists.

Marc Shargel is an award-winning marine life photographer who has been capturing images underwater for nearly four decades. He is the author of four books, including three lavishly printed coffee-table volumes in the Wonders of the Sea series. His annual participation in Santa Cruz Open Studios is a popular San Lorenzo Valley event. Shargel has also been an organizer and vocal advocate for marine conservation since the 1990s. His photographic work includes placid vistas beneath sunlit kelp forests, and encounters with everything from jewel-like snails to swarming jellies and huge sharks. More recently he has been creating artful photographic interpretations of eclipses, and traveling to classic landscapes like Iceland and the Grand Canyon.

A quick glance at the work of Sanda Jo Spiegel tells the viewer that this artist is a visionary. As she says, "The reality I paint from is internal… Often my paintings take on a life of their own, and I am never completely sure who is in control. My figurative work sometimes turns into landscape and vice-versa without my permission. l am concentrating on texture, surface and light, and before I know it, I have created something completely different than I had originally intended. At that point, I have no choice but to allow the painting to tell me what to do." Her pieces are richly colored and often incorporate novel materials to provide texture and pattern.

The Satellite Workplaces were founded in Felton and now include seven locations in the bay area and Los Angeles County. They offer a comfortable, professional place to connect, to collaborate and to be productive with secure, 24/7 access, high speed internet, comfort and quiet. Places to work solo or meet with large groups are available hourly or long-term. The spacious Felton facility will become a gallery and boutique during the San Lorenzo Valley Art Tour. Marc Shargel and Sanda Spiegel will be there to discuss their work, sign books and answer questions.
---

Scotts Valley Library
July 1 through September 26, 2023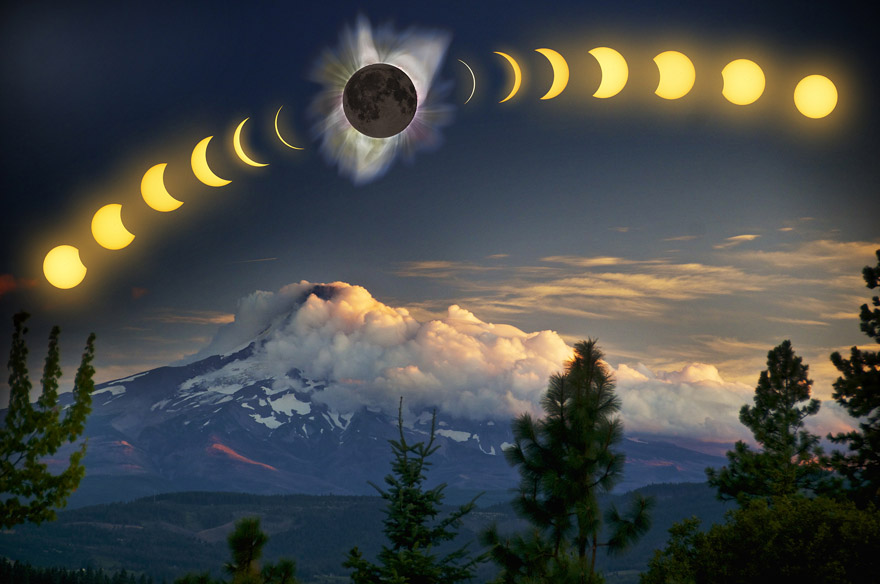 We'll be presenting a large show (more than 20 pieces) at the Scotts Valley Branch of the Santa Cruz County Public Library for the entire coming summer season.
July 1 through September 26, 2023
The show will be open to the public during regular library hours: 10 to 6 M-Th, 10 to 5 F-Sat, closed Sundays.
There will be an event to open the show in early July.
---
Watch This Space


Watch here for information about future shows.
---
Website Open 24/7

Our website is "open for business" any time. Our books and mini prints make lovely and inexpensive holiday gifts. Our larger prints are a way to give something beautiful to someone special.

Need some guidance or advice? Email anytime or phone us at 831-335-4849 between 9:30am and 5:30pm, California time.
---
If you manage a venue or know of one that would like to host a show, please contact us. Thank you!
Email or phone us at 831-335-4849 for additional information on any of our events.
If you'd like to receive an email notification of the date of our next show, please join our newsletter list.