Upcoming Author Events, Image Shows, and Lectures
Voyage to the Bottom of the Sea:
An Underwater View of
Life in California's Ocean

If you missed Voyage to the Bottom of the Sea, when it was presented May 8, 2020, don't fret! You can see the complete video at this link:
LivingSeaimages.com/voyage

Take a Voyage to the Bottom of the Sea, be carried on the words and pictures of California marine explorer and conservationist Marc Shargel. Join him for underwater adventures along the California Coast, from Oregon to Mexico, from Humboldt and Mendocino Counties to the Channel Islands, including remote dive sites in Big Sur. Marc's talk will conclude in Monterey Bay, using dive sites in Shargel's backyard to show how the recent proliferation of sea urchins has caused a major ecosystem shift in kelp forests from Monterey to Mendocino.

Chelsea Prindle, manager of the The Monterey Bay National Marine Sanctuary Exploration Center was the evening's moderator.
00:00 to 04:30 - Introduction
04:30 to 28:00 - California underwater, Oregon to Mexico
28:00 to 44:30 - The disappearance of kelp forests from Monterey, and what to do about it.
44:30 to 1:15:30 - Q & A

Marc Shargel is a vocal advocate for marine conservation. From 2000 to 2007 he participated in the effort that created new marine protected areas (like underwater parks) along the Central Coast and throughout California, bringing his images and under-water insight into the political arena. Since then, Marc Shargel has presented at dive clubs, civic groups, schools and the Monterey Bay National Marine Sanctuary Exploration Center, offering education about MPAs and sharing the beauty of the underwater world.
Video Voyages
Voyage to the Bottom of the Sea, an online presentation featuring photographs and commentary by Marc Shargel: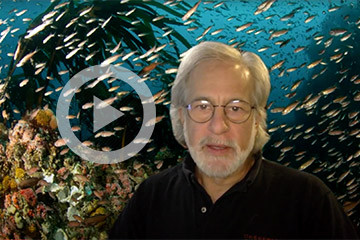 00:00 to 04:30 - Introduction
04:30 to 28:00 - California underwater, Oregon to Mexico
28:00 to 44:30 - The disappearance of kelp forests from Monterey, and what to do about it.
44:30 to 1:15:30 - Q & A
---
In the autumn of 2016 we created two short videos, and you don't have to travel or even wait a moment to see them! Just click below.
Video from Marc Shargel's Galápagos expedition: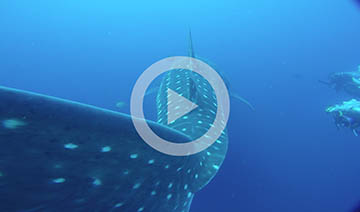 Video from Central California, Fiji and British Columbia, 2012-2016: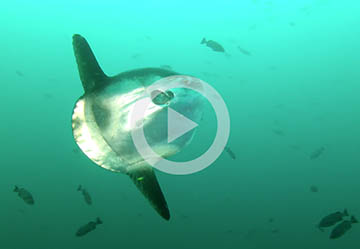 ---
We Take Requests!
If you'd like to have Marc speak to your group, send an email here. If you're wondering whether our presentations are a good match for your group or event, have a look at the events we've done in the past.

---
Marc Shargel has been a frequent presenter at clubs and civic groups all over Northern and Central California. More than a dozen clubs, as well as civic and volunteer groups, have seen his talks "Islands of the Eastern Pacific" and "An Underwater Swim Across the Pacific." In 2001 he presented images of endangered Manatees from West Florida. In 2002 his presentations featured images from the South Pacific Islands of Palau, Yap, and Bali.
Open Studios returns for 2022
Four days: Saturdays and Sundays
Follow signs to #154 on
October 1-2 & 15-16, 2022
New Hours: 10:00 AM to 5:30 PM each day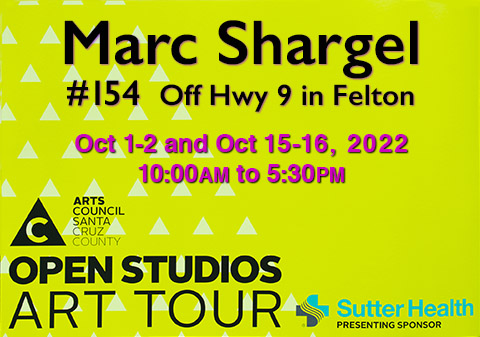 Look for signs like the above guiding you to #154 in Felton! We will be open the first and third weekends in October, observing new hours: 10 to 5:30 each day. As usual We're committed to following all current guidelines for your (and our) health and safety, and look forward to welcoming you into our studio in person again this fall. We'll have even more of our show outdoors this year, the main entrance will be via an outdoor route, and all guests viewing the indoor portion of the show will be asked to wear a mask. Indoor visitors will be limited to four at any one time, to facilitate distance.

Get ready! For the first three weekends in October, artists from the redwoods to the bay open their studios so that friends, neighbors, and strangers from near and far can discover art in this stunning county.

I will be showing new work from Arches National Park, Alaska, and the Big Sur Coast.

Open Studios will be back at my studio in Felton. You can just come to Felton and follow the bright signs with "Marc Shargel #154" on them. Or get yourself a free guide to all 300+ artists.


A FREE Open Studios Catalog and Guide will be available in September at nearly 700 locations where the Santa Cruz Good Times is found.

Get the FREE App, starting the last week in September, on iTunes & Google Play (search for "Open Studios")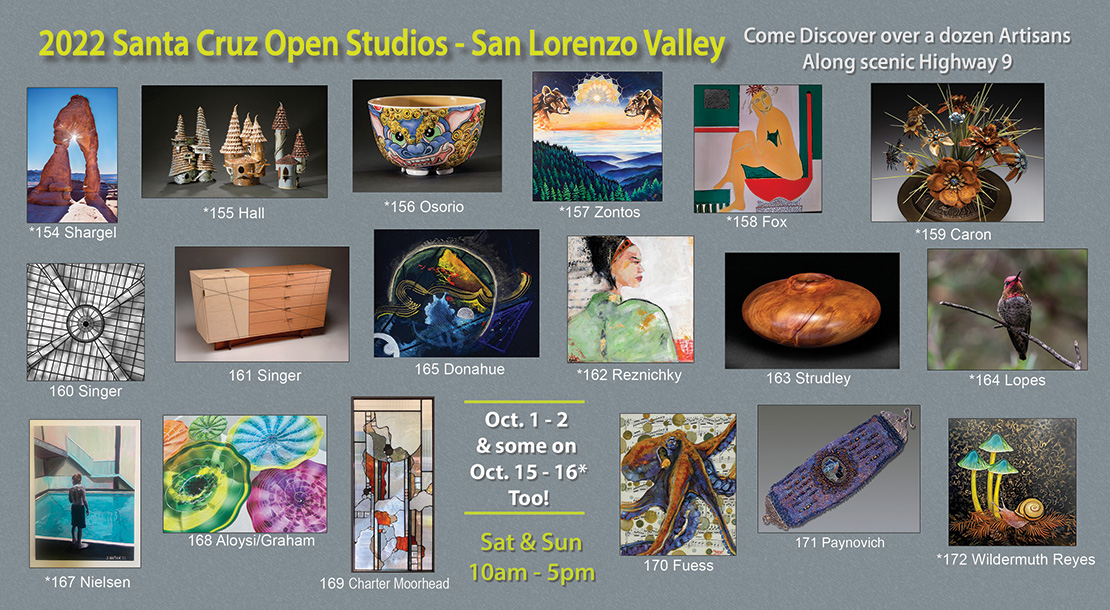 ---
Photography Class Starts Thursday, Nov 10


That's going to be a great shot! But what could this photographer do to get a more dramatic result? Answer in class meeting #5 and #6 on "composition."
Would you like to learn to make photographs that are better than good snapshots? Learn from award-winning photographer Marc Shargel in Photography Beyond Snapshots, an eight-week class on Zoom. This accomplished wildlife, nature and travel photographer will share both technical and artistic techniques to help you make better, more memorable images.

Eight Thursday evenings starting November 10, 2022. Complete course contents, schedule and sign-up details at this link.
---
Website Open 24/7

Our website is "open for business" any time. Our books and mini prints make lovely and inexpensive holiday gifts. Our larger prints are a way to give something beautiful to someone special.

Need some guidance or advice? Email anytime or phone us at 831-335-4849 between 9:30am and 5:30pm, California time.
---
If you manage a venue or know of one that would like to host a show, please contact us. Thank you!
Email or phone us at 831-335-4849 for additional information on any of our events.
If you'd like to receive an email notification of the date of our next show, please join our newsletter list.